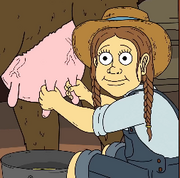 Suzie Milton
is the daughter of the Milton farmers. Ever since her father started drinking, Suzie was forced to take on his responsibilities like milking the cow Girdy, feeding the pigs and paying the bills.
Tommy Goodman falls in love with Suzie, but Suzie tells him to comeback when he gets a job. Tommy goes around town looking for a job, but ends up getting breast implants from Doc Walton and a job at Jiggly Wiggly's. Tommy then gets engaged to Suzie's father when both misconstrue each other's sentences. When Mr. Milton introduces Tommy as Suzie's new mother, Suzie says she hates him. However, Mr. Pickles saves the day when he delivers a new calf into the world after Girdy dies. Tommy gives the calf to Suzie and she kisses him.
Ad blocker interference detected!
Wikia is a free-to-use site that makes money from advertising. We have a modified experience for viewers using ad blockers

Wikia is not accessible if you've made further modifications. Remove the custom ad blocker rule(s) and the page will load as expected.