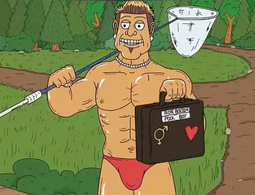 Pool Boy
is an undercover seducer and prisoner to
Mr. Pickles
. He resembles a tanned, buff pool cleaner with frosted tips and a red speedo.
When Grandpa hired Ron Bolton to help him get divorced from Linda and claim infidelity, Ron sent the Pool Boy to seduce Linda. However, Mr. Pickles knocked him out with chloroform and imprisoned him in his lair. Ever since then, the Pool Boy was been living in his lair, tending to the blood streams with a net. Since he's appearance hasn't changed at all, it's possible that he's being looked after (most prisoners seen are dirty and emaciated).
Appearances
Edit
Ad blocker interference detected!
Wikia is a free-to-use site that makes money from advertising. We have a modified experience for viewers using ad blockers

Wikia is not accessible if you've made further modifications. Remove the custom ad blocker rule(s) and the page will load as expected.