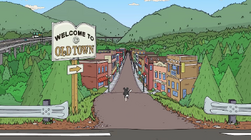 Old Town
is where
Mr. Pickles
takes place.  The town is loosely based on
Richmond, Virginia
, where the show creators originate from.
The Mayor of Old Town was killed by Mr. Pickles at the start of Mental Asylum who uses his corpse to his diguise himself as the Mayor for brief period before having him admitted to the mental asylum. The Mayor is then replaced by his deputy soon after.
Businesses and points of interest
Edit
Old Town Hardware
The Great Outdoors
Jiggly Wiggly's
Old Town Grocery
Old Town Diner
Old Town Campground
Beer & Broads Bar & Grill
Dead Man's Curve
Old Town Candy Store
Blood Bank
Old Town Seamtress
Old Town Black Smith
Wrestling Stadium
Old Town Hospital
Old Town Mental Asylum
Old Town Bank
Old Town Museum
Criminal Activity Center
Nursery
Wild Brian's Grandpa's Barbor Shop
Phil Robertson's Manor
Super Hero Guy's Cave
Recylcing Plant
Old Town Rehab Center
Sheriff Station
Ooh La La French Motel
Joe Bob's Guns
Vegan Headquarters
Haunted House
Old Town Marquee
Rare Antiques
Night Club
A Safe Place
Old Town Cemetery
Ad blocker interference detected!
Wikia is a free-to-use site that makes money from advertising. We have a modified experience for viewers using ad blockers

Wikia is not accessible if you've made further modifications. Remove the custom ad blocker rule(s) and the page will load as expected.