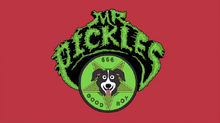 Mr. Pickles is an animated television series created by Will Carsola and Dave Stewart. The series airs on Cartoon Network's late-night block Adult Swim. Ten episodes have been ordered for the show's first season.
The series revolves around the Goodman family, particularly the six-year-old Tommy Goodman and his sidekick, the family's demonic border collie Mr. Pickles. The family lives in Old Town, an old-fashioned community being overtaken by modern appliances. Tommy and Mr. Pickles are the subject of various wacky adventures, and he and the rest of the town (with the exception of Grandpa) are oblivious to Mr. Pickles's secret wicked ways.
Production
Edit
The series is created by Will Carsola and Dave Stewart (of Funny or Die fame) with executive producer Michael Rizzo.[1] Mr. Pickles was one of several shows pitched to Adult Swim under the name "Day by Day". Stewart recalled promoting it as a "one-line sentence", while Carsola remembered that it derived from a "write-off" session, where the two present ideas to each other in the form of scribbles for their amusement. Carsola explained that ideas in this process are released from the pressure "of them being good", occasionally finding "one that sticks".[2] They later explained at the 2014 San Diego Comic-Con International that the idea was about based on Lassie, but became "more of its own thing since then".[3]
Stewart's own female pet dog served as inspiration for the animators on the character of Mr. Pickles.[3][1] Animation director Mike L. Mayfield recorded Stewart's dog playing around on video, with animators using the resulting footage as a base for the character's movements;[4] the series is animated using Adobe Flash.[5] Its setting is roughly based on Richmond, Virginia, where the creators started out in entertainment before moving to Los Angeles. In the United States, the series is rated TV-MA for graphic violence;[6] the creators are given creative freedom by the network, with Stewart explaining the notes received by them as "minimal",[2] much to their surprise. The creators observed some inconsistencies as to what is considered unacceptable, but try not to question it and compromise instead.[3]
Elaborating on its 11-minute running time, Carsola described it as a 22-minute show "squished" into a quarter hour.[1] Among the voices for the characters include Brooke Shields[2], Frank Collison, Jay Johnston and Carsola and Stewart themselves.[1] Shields's role in the series came after looking at the creator's work for Funny or Die and obtaining the script for Mr. Pickles. According to Carsola, the two were dubious over her interest in the series, but after being cast she provided lines in a recording booth in New York City while the creators supervised over Skype.[2]
Reception
Edit
The series has received mixed critical reception. Writing for Strange Kids Club, Mat Spitkovsky stated the series' extreme content matter left him at a loss for words as well as confused. Afterwards, he found it lacking in "class, creativity and goddammit, originality" in the vein of Superjail!, although its "brazen approach at crass offense ... all in good fun" was "kind of cool."[7] Aaron Simpson of Cold Hard Flash called the series an amalgamation of Lassie and Superjail!, while observing some social commentary "to ensure this is more than just a multi-episodic sketch."[5] Mike Hale of The New York Times labeled it "the less tasteful but more mainstream" counterpart to Tim & Eric's Bedtime Stories, another addition to the network.[8] He wrote that the show was "more grisly than funny," but predicted it to have a cult following and that Shields' voice would add "surreal-pop-culture cachet".[8]
See Also
Edit
References
Edit
Ad blocker interference detected!
Wikia is a free-to-use site that makes money from advertising. We have a modified experience for viewers using ad blockers

Wikia is not accessible if you've made further modifications. Remove the custom ad blocker rule(s) and the page will load as expected.