Mr. Pickles

Vital statistics

Position
Goodman family
Age
22
Status
alive

Physical attributes

Height
15 inches
Weight
68 pounds
Mr. Pickles
(voiced by
Dave Stewart
) is the evil, satanic Border collie and the titular protagonist, and anti-hero in the animated slasher series,
Mr. Pickles
. He is the pet dog of the
Goodman family
.
https://www.youtube.com/watch?v=jLntFKtR66g
Personality
Edit
Mr. Pickles is a collie who is secretly a demon, that of which only Grandpa Henry only knows. He will kill or imprison any unfortunate soul in his path. He has been shown to have supreme authority over all of his prisoners and followers within the lair and does not like his orders to be questioned or refused and will immediately execute anyone who does so. Despite his evil tendencies, Mr. Pickles is very protective and loyal to Tommy, and usually will kill or mutilate anyone who bullies or harasses him, as seen in episodes such as Tommy's Big Job. Only Henry Goodman is aware of Mr. Pickles' wicked ways. Because of this, Grandpa is often the target of torment by Mr. Pickles, as nobody actually believes Grandpa's stories. Mr. Pickles has been shown to have a high sex drive as he usually engages in sexual acts. In the Pilot episode, he is seen masturbating to pornographic magazines. In several episodes, he is seen humping the animals he possesses. It also appears that he is very sexually attracted to Beverly Goodman, this is evident as he also created a large shrine with followers dressed as Beverly in her honor and created a statue of her and Mr. Pickles humping her from behind, dreaming of one day that he will finally have sex with her. In the "Vegan" episode, Mr. Pickles had a chance to have sex with Beverly, but she was captured and blindfolded against her will. Mr. Pickles, developing a conscience and romantic feelings for her, decides not to do it, and instead settles for a belly rub from rescuing her. On numerous occasions, he initiates inappropriate contact with Beverly Goodman; for example, in Tommy's Big Job, he puts his head between her breasts and is later shown with his head inside of her skirt. In Serial Killers, he even humps her playfully from behind. In Dead Man's Curve, it was revealed that Mr. Pickles is afraid of vacuum cleaners. Grandpa used this to his advantage by carrying a vacuum cleaner everywhere he went, until Mr. Pickles found out that he could be sexually stimulated by the vacuum. In Coma, Mr. Pickles (hiding in the hospital morgue) masturbated to a nurse, only to stop when he learned she and a doctor were planning on harvesting organs; after killing the doctor, he cut off his scalp and legs to impersonate the doctor so he could hump the nurse's leg. At the end of the episode, she has become a prisoner/slave to Mr. Pickles.
Powers & Abilities
Edit
Berserk Animal Manipulation: Mr. Pickles has the power to communicate with and control animals creepily via a spooky language (which is actually distorted backwards dialogue). For example: in Tommy's Big Job the animals' eyes becomes very dilated when Mr. Pickles does this. When he does this, his fur sticks up on end, his tail spins around fastly, his eyes dilate rapidly, and his ears usually stick upward.
Superhuman Intelligence: Mr. Pickles's intelligence is high enough to be on a super-human level. He has a full understanding of the English language, he is able to create robots, operate motor vehicles, successfully use fire arms and other weapons, and has an incredible knowledge of surgical techniques.
Superhuman Strength: Mr. Pickles is able to tear through human flesh with his teeth with relative ease, jump very high and agile, twist people's necks, and can drag a human body with little to no help. Also able to stop two trains stacked on top of each other behind Crime Man's car by pushing his front paws on the hood in Shövenpucker. This is the first, and very prominent example of Mr. Pickle's superhuman strength.
Solaromancy: If the Sunrise trailer has any sort of canonical relevance he can manifest as a odd-looking sun.
It' s possible that Mr. Pickles may inspirit other superhuman or unusal powers that have yet to be revealed.
WEAKNESS 
Edit
Mr. Pickles also had at least one known weakness: sensitivity to vacuum cleaner noise. He managed to overcome that weakness by enjoying masturbating with the vacuum cleaner. 
In the season 3 finale, he is shown to possess some carelessness as he doesn't notice the security camera installed in the bar where he frames Grandpa for murders in which his nature will be exposed in the future. Actually, the camera was set by Mr.Pickles. Proof can be shown when carefully observing the laptop screen in the van he escaped in. On the screen it said CAM.8 BAR, just like on the security camera itself. Everything had been set up by Mr.Pickles before hand. It also possible that he can be killed by conventional means since he shows fear when Grandpa traps him in the cage and ready to kill him with a shotgun.   
Despite Pickles's demonic power and intelligence, he is still being outsmarted by someone who knows him very well, in this case is Grandpa. When Pickle tries to kill Grandpa, he manages to outwit Pickle and escape to live another day to fight back him.
Once again, Mr. Pickles can still be harmed and possibly killed through physical or psychological circumstances. As some episodes shown Mr. Pickles is vulnerable to basic attacks as Granpa manages to punch Pickles in the face and make him stun.
Relationships
Edit
Tommy Goodman: Tommy is Mr. Pickles's owner. Unlike how he would kill and torture humans, Mr. Pickles is very loyal and protective of Tommy and loves him. He would kill or torture anyone that bullies or harms Tommy. Whenever somebody bullies or threaten Tommy, Mr. Pickles would angrily growl at them, give them a dirty look, and in the end torture or mutilate them. He would allow Tommy to ride on his back and would whimper if Tommy is in danger or missing. Even though he loves Tommy, he would get a little annoyed by him, but knows he's just a child.
Beverly Goodman: Beverly is Tommy's mother. It shows that Mr. Pickles has sexual affections for her and would always touch her breasts, put his head in her skirt, or sniff her underwear. However, she dismissed it as she believed that it was just playful dog mannerisms. She is one of the few people that Mr. Pickles cares about, like when he saved her when she was about to get raped.
Stanley Goodman: Stanley Goodman is Tommy's father. Mr. Pickles does seem to respect him and would save him if he ever gets into a sticky situation.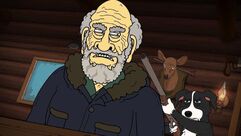 Grandpa Henry Gobbleblobber: Henry is Tommy's grandfather. Unlike most of the characters, Grandpa actually knows how evil Mr. Pickles is and would often try to expose him, making him Mr. Pickles' nemesis in several occasions. Mr. Pickles enjoys pranking Grandpa and would sometimes drag him to his killing adventures. Despite torturing Grandpa, Mr. Pickles does care about him like when he was in the mental asylum, Mr. Pickles did everything he can to get him out (although knowing Mr. Pickles, it's most likely the only reason he did it was just so he could be able to torment him again). In the Season 3 finale, Mr Pickles tries to hunt down Grandpa after he moves out in order to torture him more but Grandpa manages to outsmart Pickles and nearly close to kill him. However, due to the twist of fate, Pickles escapes his gasp and manages to frame him for murder but Grandpa eventually escapes and find a way to end him once and for all.
Sheriff: Mr. Pickles's relationship with the Sheriff is neutral. While he does help and respect him, Mr. Pickles can get annoyed by the Sheriff's stupidity, like when he was trying to tell him about the midget criminal he was looking for, but the Sheriff believed that Mr. Pickles just wanted a ride. In Serial Killers, he made Mr. Pickles a police dog in Serial Killers. He is annoyed by Sheriff looking for the 'gum thief' throughout the episode (even though the escaped serial killers were the real threat and Mr. Pickles killed them himself).
Steve: Steve is Mr. Pickles's pet human who wears a gimp suit and behaves like a dog. Unlike the prisoners in the lair, Mr. Pickles actually cares and loves Steve and has made her room the only normal place in the lair. On the walls it shows that Steve and Mr. Pickles often spend a lot of time together. It was later revealed that in Season 2 episode Finale, Steve is actually Grandpa's wife, Agnes.
3 Steves: After Agnes' death. Green collar: spikes; red collar: ball gag; blue collar: blinder.
Mr. BoJenkins: Mr. Pickles seems to have a good relationship with Mr. BoJenkins, since he is kind to Tommy. In "Serial Killers", Mr. Pickles saved Mr. BoJenkins from being poisoned by a Serial Killer.
​List of Victims
Edit