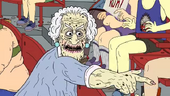 Miss Fulton (voiced by Lauren Weisman) is a character who appears in the episode Foul Ball. She is a cantankerous old woman who shouts "You can eat my ass!" when the announcer introduces her. On two occasions, she grabs Mr. Goodman's testicles; the first time is after she overhears Tommy talking about wanting to catch a foul ball. She proclaims, "I'll show you how to catch some balls!" Before being hit and killed by Jim Fouler Johnson's lone home run, she was the oldest woman in Old Town at 119 years of age.
Ad blocker interference detected!
Wikia is a free-to-use site that makes money from advertising. We have a modified experience for viewers using ad blockers

Wikia is not accessible if you've made further modifications. Remove the custom ad blocker rule(s) and the page will load as expected.