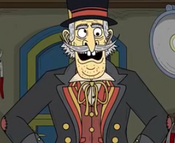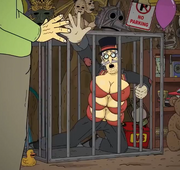 Doc Walton
is a cosmetic surgeon in
Old Town
who offers various procedures (advertised merely as "jobs") from within his horse-driven carriage.
Tommy
mistakes his "jobs" as employment and Doc Walton confuses Tommy for a women because he lost his glasses. This results in Walton giving Tommy large breast implants when Tommy asks for a job that would help him pay bills. Walton then gives Tommy a $20,000 bill for the surgery and tells him to head to the strip club
Jiggly Wiggly's
to pay it off. While Walton takes out his trash,
Mr. Pickles
knock him out with an anaesthetic before having sex with his donkey. Mr. Pickles later takes Walton to his lair where he returns his spectacles and performs plastic surgery on him, giving him three sets of large breasts.
Doc Walton has since made several reappearances in Mr. Pickles' lair, chained up or caged and forced to breast feed the Baby Man.
​Appearances
Edit
Ad blocker interference detected!
Wikia is a free-to-use site that makes money from advertising. We have a modified experience for viewers using ad blockers

Wikia is not accessible if you've made further modifications. Remove the custom ad blocker rule(s) and the page will load as expected.